BanG Dream! is anime television adaptation animated by Issen and Xebec started airing on Tokyo MX on January 21, 2017. The anime has been licensed in North America by Sentai Filmworks is streamed on the Anime Network and by Crunchyroll. The anime ran for 13 episodes and was released across seven BD/DVD volumes. An original video animation (OVA) episode was advanced screened before the release of the 7th BD/DVD volume which contains it on November 22, 2017.
A Blu-ray BOX will be released on November 28, 2018. It contains all anime episodes, OVA, and a 260-minute bonus material which includes studio lives that were either previously aired online or included in previous BDs.[1]
A second and third seasons were announced on May 14, 2018. The second season will start airing on January 3, 2019, while the third season will air on January 2020. It was also announced that CG studio Sanzigen will replace Issen and XEBEC studios for the seasons' production.
Plot
Just like the sparkling sound "Star Beat" that she heard while looking up at the starry skies when she was young, Kasumi Toyama has been searching for something that would excite and make her heart go pit-a-pat. After getting into high school, Kasumi comes across a star-shaped guitar in an old pawnshop. It is this fateful meeting that evokes the emotions that have been locked up within Kasumi.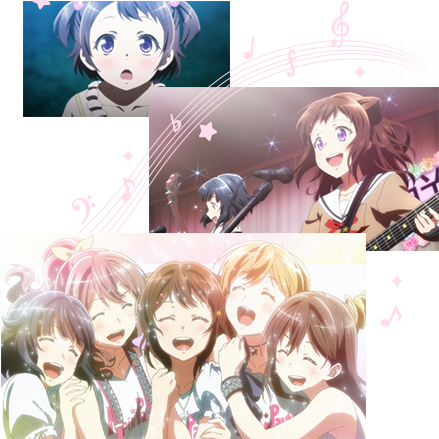 Teaming up with four other girls who, like Kasumi, dream of a place that can make them shine, the five of them work towards realising their musical dream.
The anime's story is also in BanG Dream! Girls Band Party! as Poppin'Party's band story 0.
Staff
Animation Studio: Issen and XEBEC
Director: Atsushi Ootsuki
Sound Director: Atsushi Ootsuki
Series Composition: Yuniko Ayana
Music: Junpei Fujita & Noriyasu Agematsu
Character Design: Matsuko Nita
Original Character Design: Hitowa
Original Creator: Kou Nakamura
Cast
Music
Opening Theme
Ending Themes
Insert Songs
Episode List
No.
Title
Air Date
01
"We Met!"
出会っちゃった!"Deatchatta!"
January 21, 2017
One day, as she's still adjusting to her new high school, Kasumi Toyama discovers a trail of stars that leads her to an old thrift store. Inside, she makes a discovery of a star-shaped guitar.
02
"We Did It!"
やっちゃった!"Yatchatta!"
January 28, 2017
Kasumi's heart is set on forming a band, but Arisa wants nothing do with it. In fact, Arisa is so determined to avoid her that she puts the star-shaped guitar up for auction.
03
"I Ran Away!"
逃げちゃった!"Nige chatta!"
February 4, 2017
Kasumi asks Rimi to join her band, but Rimi is reluctant. Meanwhile, Glitter*Green runs into an issue on the way to their show.
04
"I Got Angry!"
怒っちゃった!"Okotchatta!"
February 11, 2017
Kasumi starts staying after school to take guitar lessons from Tae. Meanwhile, Arisa seems to have a problem with all the time they are spending together.
05
"My Heart Was Racing!"
ドキドキしちゃった!"Dokidoki shi chatta!"
February 18, 2017
Kasumi, Tae, Rimi, and Arisa are preparing for their first performance. Are they going to be ready in time?
06
"I Made It!"
作っちゃった!"Tsukutchatta!"
February 25, 2017
Kasumi begins to struggle in school and enlists Saya's help. Meanwhile, Arisa has been searching for the perfect band name.
07
"We Fought!"
ケンカしちゃった!"Kenka shi chatta!"
March 4, 2017
Kasumi has a tall order in convincing Saya to join Poppin Party, is she able to do it? Meanwhile, they continue to get ready for the Culture Festival!
08
"I Ran!"
走っちゃった! "Hashitchatta!"
March 11, 2017
The Cultural Festival preparations are done, and it is time for it to begin. Meanwhile, Poppin' Party play their first show! How does it go?
09
"I Got a Job!"
バイトしちゃった! "Baito shi chatta!"
March 25, 2017
Saya gets a new drum set and the girls all get jobs at Space! They learn what goes into putting on a live show.
10
"I Got Surprised!"
驚いちゃった! "Odoroi chatta!"
April 1, 2017
Poppin' Party auditions at Space but to play there you must impress the owner. Do they achieve their dream?
11
"I Couldn't Sing Anymore"
歌えなくなっちゃった "Utaenaku natchatta"
April 8, 2017
Kasumi is still struggling to find her voice but the rest of Poppin' Party is there to help pick her up.
12
"I Sparkled?!"
キラキラしちゃった! "Kirakira shi chatta!"
April 15, 2017
Poppin' Party gets another chance to play at Space. Will they finally impress the owner?
13
"We Sang!"
歌っちゃった! "Utatchatta!"
April 22, 2017
Kasumi finally achieves her dream as Poppin' Party plays at Space's last show. How will they perform?
OVA
"We Had Some Fun!"
遊んじゃった! "Ason jatta!"
August 19, 2017
Radio
Gallery
Trailers
References