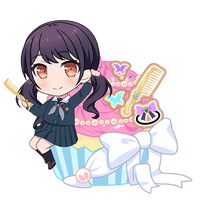 Futaba Tsukushi is a first-year student at Tsukinomori Girls' Academy and the leader and drummer of Morfonica.
She is classmates with Mashiro, and is also their class's class president.
Background
Tsukushi lives with her parents and two younger sisters. Her father runs and manages different food businesses.
Appearance
Tsukushi has dark purple hair and orange eyes. Her hair is put into twin tails.
Personality
A class president who's always full of confidence. Though Tsukushi tries her best, and can be quite stubborn at times, her clumsiness comes out every now and then; Touko likes teasing her about this, which sometimes leads into them arguing. She also works tirelessly to become a reliable and trustworthy person.
Game Interactions
A list of characters Tsukushi interacts with in the game (during Lives and in the dialogues at the end of every game).
Videos
Etymology
Futaba (二葉) means "sprout".
Tsukushi (つくし) means "horsetail".
Trivia
She has the same height as Rimi, and is also the shortest Morfonica member.

Similarly to Rimi she has a complex about her height and wishes to be as tall as Rui.

She is good at cooking.
BanG Dream!
 

Voice Actresses

Live VA
Band
Other VAs
Previous VAs
Community content is available under
CC-BY-SA
unless otherwise noted.