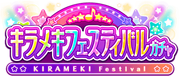 KIRAMEKI Festival Gacha or KIRAMEKI Fes is a type of gacha introduced on October 31, 2021.
Similarities to DreamFes:
Doubles the appearance rate of 4☆ from 3% to 6%.
Precedes the event-related gacha and also features the spotlight cards from said event-related gacha.
Only around for a limited amount of time, averaging 4 days.
KIRAMEKI Fes cards feature a "Memorial Animation" and illustration. The Memorial Animation's theme will be about the characters' daily lives and can be seen upon obtaining them and from the member details. Future updates regarding being able to use the Memorial Animation on the home screen is being considered. Meanwhile, the illustration will be a scene from the Memorial Animation. It will not have a pre-training illustration and will be obtained as after-training, at Level 1. KIRAMEKI Fes cards will also have their own unique skill that is different from the DreamFes card's skills.
Using the KIRAMEKI Fes live costume will allow you to be able to listen to dedicated voice lines on some screen where it features the character wearing the said live costume and another character.
KIRAMEKI Fes will not feature DreamFes cards.
List of KIRAMEKI Festival Gachas
| ID | Gacha Name | Spotlight Cards | JP | TW | KR | EN | CN |
| --- | --- | --- | --- | --- | --- | --- | --- |
| 871 | | | 2021-10-31 | 2022-03-24 | | | |
| 922 | | | 2022-01-31 | 2022-06-19 | | | |
| 948 | | | 2022-03-18 | | | | |
| 983 | | | 2022-05-31 | | | | |